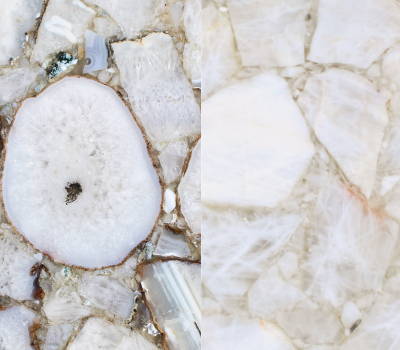 The intricate bands on White Agate were formed by repeated floods of slow-moving lava waves over lower levels of stone, laying down successive layers of silica/quartz one over the other. Years have gone into its formation but it also made it remarkably stable.
White Agate is believed to stimulate the crown chakra and is often used to make 'worry stones'. People believe in its balancing properties to deal with mental issues, including everyday challenges such as frustration and anxiety. 
This stone is among the most recommended healing stones because of the gradual manner in which it soothes energy flows, dispelling sickness and strengthening overall optimism.  
Recommended by alternative therapy practitioners and crystal stone healers, white agate is popularly known as the 'Stone of Harmony'. White Agate is also credited with harmonizing an individual's feminine and masculine sides.  

White Quartz, sometimes also called Milk Crystal or Milky Quartz, is translucent with a whitish sheen. White quartz stone is available in two variants—one is closer to being opaque and the other is more translucent. Clear white quartz has masculine and protective energy, while the opaque option is closely related to feminine and receptive energies.
It is a powerful crystal used for universal cleaning at all levels. It is equally effective in cleaning up emotional and mental levels and living spaces.
Like many types of Agates, White Quartz has protective properties. From dispelling irrational fears to helping people overcome bad dreams, white quartz has been historically recorded usage for bringing in more positivity in living spaces.  
Crystal experts often opine that white quartz is good for healing medical conditions that don't have a definite diagnosis. As a stimulator of crown chakra, white quartz helps in enhancing clarity of mind and concentration. White quartz is also known as a healer of disorders related to pineal and pituitary glands.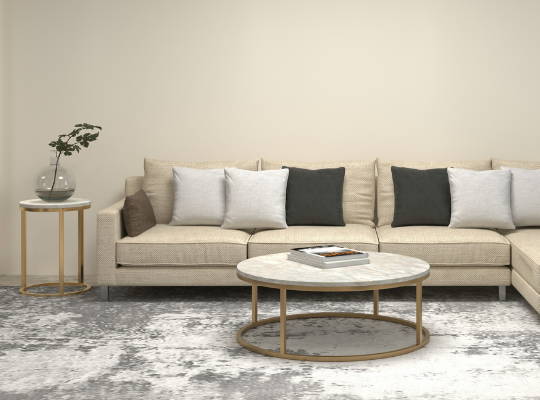 Cozy warm interiors that keep you close to nature. Organic shapes, natural fiber, and sustainable design - boosting your creativity & mood and keeping your energy levels high!!
Natural Collection - incorporating soft tones, simplicity, and clean minimalistic design in every element.
Mon-Fri. 11am-7pm

Sat-Sun. 11am-2pm

Mon-Fri. 11am-7pm
Sat-Sun. 11am-2pm

Mon-Fri. 11am-7pm
Sat-Sun. 11am-2pm

Mon-Fri. 11am-5pm
Sat-Sun. 11am-2pm