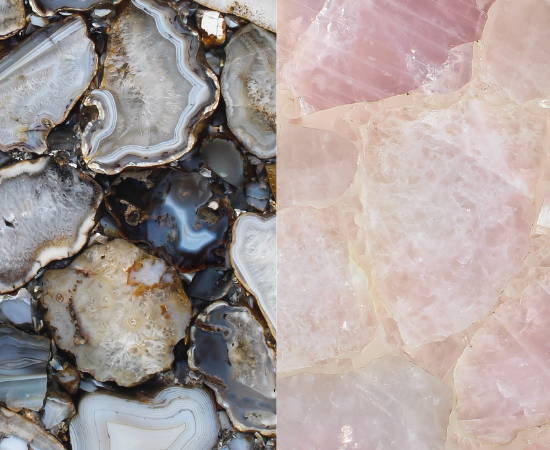 Made from pieces of broken shells subjected to intense pressure and other surrounding factors - Fossil Agate or Grey Agate is therefore believed to have a deep connection to the past and most importantly the "Earth". Sometimes it is also called the "Grounding Stone".
 Abundance of color tonalities makes this gemstone surface stone stand apart from other real stones. 
For thousands of years, Grey Agate has been for healing purposes and making jewelry, amulets, and talismans.
Grey Agate, also known as "Fossil Agate", can be easily recognized for its grey hue with shades of white, pink, light grey and other colors, forming unique banding patterns.
Known as the Stone of strength, it is used for relieving fatigue and filling the environment with positive energy. 
Grey Agate- the stone of protection - works towards removing influences of negative thoughts and energy. It is also believed that this stone brings you good fortune and luck.
For thousands of years, Rose Quartz has been used as a gemstone, in jewelry, and in religious objects. The stone is so powerful that it is believed to enhance your capacity to love others as well as yourself.
The dusky pink stone is known as the Stone of Universal Love or the stone of love and beauty. The presence of the stone is believed to restore trust and harmony in relationships. It encourages unconditional love and creates a peaceful environment.
The calming stone creates a comforting environment in times of grief, replacing negativity with loving vibes. It also protects against environmental pollution and balances the heart.
The stone, though powerful, does need to be recharged regularly. Running water and moonlight are ideal for recharging this stunning gemstone.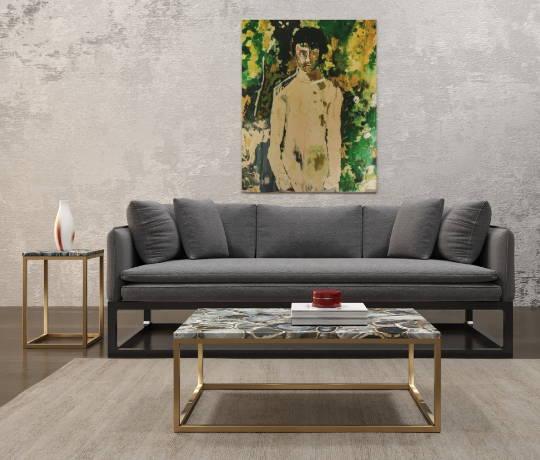 Calm, Cool, and collected - Modern interior design is built around simple and clean lines. With antique gold finish and subdued color palette, Modern interiors are truly minimalistic - enjoying a sense of simplicity in every element.
Create a restrained sense of luxury resulting in a space feeling both effortless and timeless with our Modern Collection.
Mon-Fri. 11am-7pm

Sat-Sun. 11am-2pm

Mon-Fri. 11am-7pm
Sat-Sun. 11am-2pm

Mon-Fri. 11am-7pm
Sat-Sun. 11am-2pm

Mon-Fri. 11am-5pm
Sat-Sun. 11am-2pm