Petrified wood is formed when terrestrial vegetation completely transforms to stone as all the organic material gets replaced by minerals. This process of crystallization takes millions of years where elements such as manganese, iron, and copper give petrified wood a variety of color ranges. 
The color of this beautiful gemstone tells only half its tale, the healing properties say the rest! From healing bones to treating moderate symptoms of paralysis, the petrified wood healing stone provided comfort and control.  
Petrified Wood creates an aura of safety and security. It helps in spreading calming vibes and tackling survival-based fears. 
The healing and calming stone has the ability to soothe emotions and dispel stress. Brown Petrified Wood stone is said to stabilize the root chakras. 

From spreading positive vibes to infusing self-confidence and catalyzing creativity in artists, the healing effects of Blue Agate are many! It is also used as a talisman to lessen negative energies and various stresses, Egyptians even used the stone to make their famous scarabs.
The gemstone belongs to Quartz group and features fragile bands and sometimes an eye mark. Blue Agate is popularly also called Blue Lace Agate because of the soft colors laid out in concentric layers.
Blue Agate, "The stone of calmness", is believed to balance energy flows and release tension. Since ages it is also used in psychic healing. 
Blue Agate gemstone is famous for helping people maintain composure - spreading positive vibes, infusing self-confidence, and catalyzing creativity.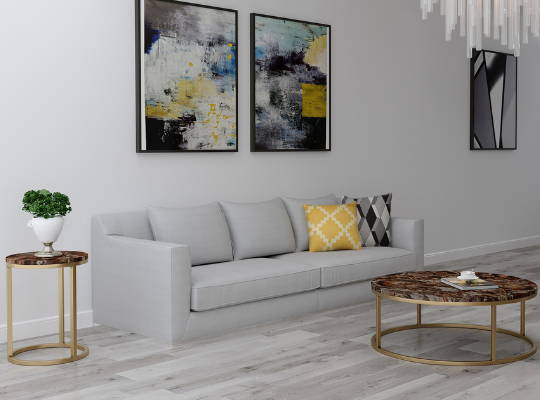 For those who appreciate style and comfort without restrictions and unnecessary ornamentation - Casual Interiors - careless elegance, spaciousness, and an environment infused with bright colors and healing energy of natural gemstones.

Want comfort and a cozy atmosphere? Love simplicity and elegance?
Checkout our Casual Collection.
Mon-Fri. 11am-7pm

Sat-Sun. 11am-2pm

Mon-Fri. 11am-7pm
Sat-Sun. 11am-2pm

Mon-Fri. 11am-7pm
Sat-Sun. 11am-2pm

Mon-Fri. 11am-5pm
Sat-Sun. 11am-2pm